Big Lake Middle Schoolers share "Random Acts of Kindness"
Fri, 01/15/2010 - 11:06am | by chris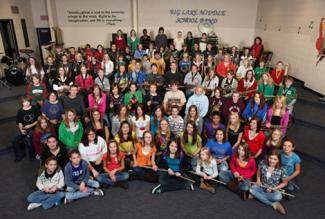 Since raising teenagers of our own, I've had an appreciation for the work of middle school teachers and staff. Working with 6th, 7th and 8th graders trying to find their place in the world can be a challenge. But after spending all day Thursday photographing groups at the Big Lake Middle School, it's clear there are many young people who take a lot of pride in their accomplishments. They're also quick to offer "random acts of kindness." As I moved from one room to the next carrying camera equipment, a tripod and two light stands, students were always willing to lend a hand. One boy even chased me down the hall to offer help. That spirit is enough to brighten anyone's day!